The International Convention of Allied Sportfishing Trades, better known as ICAST, is the world's largest sportfishing trade show annually hosting 7,000 members of the sportfishing industry representing 63 countries. Each July, ICAST is the first place for fishermen to check out new products for the following year. Florida Sportsman hit ICAST hard this year in Las Vegas.
Best of Show winners at this year's show include:
Overall Best of Show – Pure Fishing, Berkley Nanofil
Apparel – Frabill, Frabill Suit
Boat – Hobie Cat, Hobie Mirage Revolution II
Boating Accessory – JL Marine Systems, 10 Ft Power-Pole Blade Edition
Combo – Daiwa Corporation, Daiwa D-Shock DSH-4Bi Combo
Electronics – Johnson Outdoor Marine Electronics, Humminbird 1158c DI Combo
Eyewear – Costa, Costa Women's Collection
Fishing Accessory – G. Pucci & Sons, P-Line Sparrowhawk
Fly Fishing Accessory – VestPac, DriftPac

Fly Fishing Reel – Temple Fork Outfitters, BVK Fly Reel
Fly Fishing Rod – G. Loomis, Pro4x
Freshwater Reel – Pure Fishing, Abu Garcia Revo MGX
Freshwater Rod – G. Loomis, GL2

Giftware – 3D Picture Store, 3D "Exploring Smallmouth" Picture
Kids' Tackle – Pure Fishing, Casting Game & Sound Fishing Kit
Line – Pure Fishing, Berkley Nanofil
Hard Lure – Pure Fishing, Sebile D&S Crank
Soft Lure – Koppers Fishing & Tackle Corporation, LIVE TARGET Hollow Body Mouse
Saltwater Reel – Daiwa Corporation, Saltiga SATG5000H

Saltwater
Rod – Shimano American Corporation, Terez Rail Rod
Tackle Management – Plano Molding Company, 4674 Hydro-Flo Tackle Bag

Terminal Tackle – VMC, Spinshot
Exclusive photos of new products from the show
You won't find a more comprehensive compilation of new and exciting tackle than the more than 45 products listed below. If you missed out, be sure to check out the Sneak Peek photos and video that were listed daily during the show from July 13 – 15. Also, buy a copy of the August issue of Florida Sportsman magazine for even more tackle from ICAST.
Okuma

The Okuma Raw II saltwater spinning reels feature T480 aluminum alloy construction and a Dual Force Drag system with a carbon fiber drag stack. The non-anodized T480 aluminum shows zero structural damage after 480 hours of continuous saturated salt spray, says Okuma. www.okumafishingteam.com
---
Shimano

The brand new Shimano Sustain (SA) comes in five sizes–1000FG, 2500FG, 3000FG, 4000FG and 5000FG. Each Shimano features the X-Ship (a double bearing-supported pinion gear), along with a "kickstand" that protects the paint and bail when the reel is set down. fish.shimano.com
---
G. Loomis

The G. Loomis GL2 series is expansive. This new series includes 12 casting and six spinning rods, with rods specific for casting crankbaits, spinnerbaits and swimbaits. There are even drop shot rods, a flipping stick and spinning rods for trout jigging. www.gloomis.com
---
Power-Pro


The Power-Pro Super Slick features 8-yarn Spectra fiber construction braided under tension to create a smooth surface. Available weights include 10, 15, 20, 30, 40, 50, 65 and 80 pound test; colors include Hi-Vis Yellow, Marine Blue, Timber Brown and Aqua Green. www.powerpro.com
---
Malibu Kayaks

Not Star Wars, but it sure sounds like it. The Malibu Kayaks X-Wing Sliding Console is easy to mount and slides up and down side tracks along your legs. The X-Wing holds your rods, fishfinder, compass and battery. www.malibukayaks.com
---
Fox Sport Fishing

The largest privately owned tackle firm in Europe is making a splash in the U.S. Fox Sport Fishing introduced its spinning rods and reels, conventional setups and even braided line at ICAST. The Santos spinning reel is machined from aluminum stock and features a stainless-steel gear train mounted on eight stainless steel ball bearings.
 www.foxsportfishing.com
---
Yeti Coolers

Yeti was back at ICAST with its one-piece, roto-molded polyethylene coolers. Features include freezer-style sealing gasket locks, T-latch keepers, self-stopping hinges, and recessed drain plugs and rubber washers. www.yeticoolers.com
---
Frabill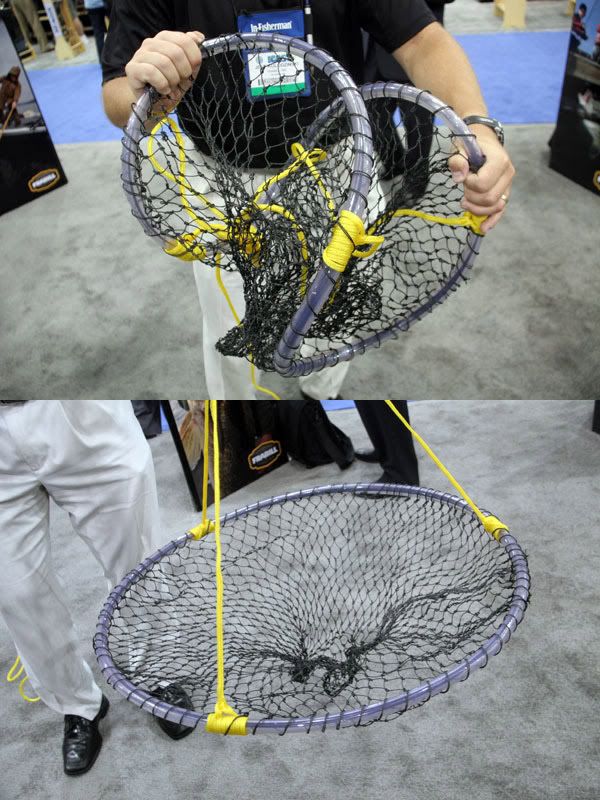 Frabill's pop net collapsible net is ideal for pier anglers. The drop net handles heavy fish at the pier or bridge, but collapses into a small enough circle to fit in a 5-gallon bucket. No more lugging around that cumbersome metal hoop net. www.frabill.com
---
Quantum

The Quantum EXO PT (short for exoskeleton) shot holes into traditional baitcasting reels, literally. An ultra-rigid aluminum alloy combined with a lightweight composite reduces the weight to 5.9 ounces. According to Quantum, it's 38 percent stronger than magnesium and 6 times stronger than a graphite composite frame. www.quantumfishing.com
---
Star Rods

Star Rods enters the reel market with its line of Star Aerial rods and reels. Pictured is the light- to medium-heavy Star Aerial EXS4 spinning reel mounted to a Star Aerial rod. www.seastriker.com/starrods
---
American Fishing Wire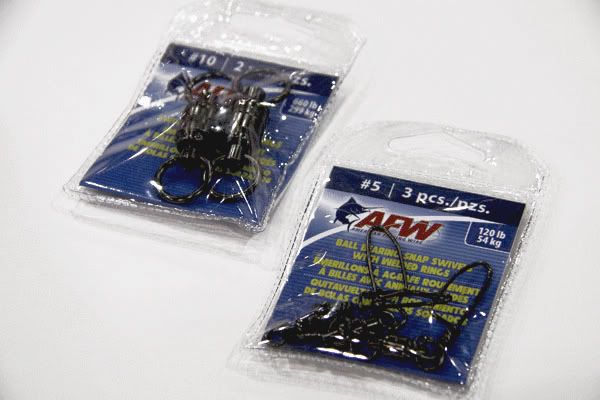 American Fishing Wire introduced new snap swivels and crane swivels at ICAST. Pictured are ball bearing snap swivels with welded rings testing to 120 pounds. Top left, the crane swivels test to 660 pounds. Watch out blue marlin! www.americanfishingwire.com
---
Penn

The Penn Squall Lever Drag reels feature a machined aluminum spool, bronze main and pinion gear, graphite frame and side plate, "ratched" drag lever and 5 shielded stainless steel bearings. Four sizes are available, including a left-handed model (SQL30LD, SQL40LD, SQL50LD and SQL60LD). www.pennreels.com
---
Engel Coolers

Not much changed on the Engel DeepBlue coolers, but not much was needed. Now, the Engel Coolers feature new molding at the sides to easily mount straps or metal tie-downs. www.engel-usa.com
---
Gamakatsu

Drop shot hooks for bass fishing were hot at this year's ICAST show. This is Gamakatsu's version called the Finesse Swivel Shot. A swivel is pieced through the hook eye so anglers no longer have to tie a Palomar knot to the drop shot hook. www.gamakatsu.com
---
VMC Jigheads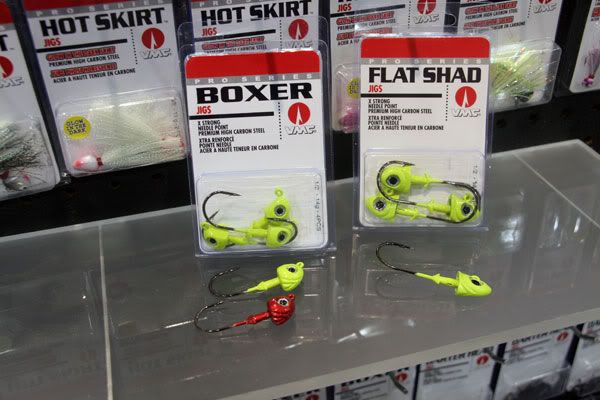 Something for all the inshore jig fishermen. VMC's boxer and flathead jigs come in most sizes and colors for flats fishing. Maybe pair it up with a Trigger X soft bait? www.vmchooks.com
---
VMC Hooks

Stop fighting line twists when drop shotting for bass. The VMC Spin Shot hook features a steel black nickel "spinning system" that looks like a modified swivel. The Spin Shot allows your baits to spin without fear of tangles. www.vmchooks.com
---
Storm

Storms' latest segmented baits feature three parts and two joints. The lipped baits come in popular color combinations for freshwater and saltwater anglers. Segmented baits are expected to be a popular lure style this upcoming year. www.stormlures.com
---
Williamson

Bottom right, Williamson's Raku jig. Raku ("easy" in Japanese) describes how productive this saltwater bait can be. Fish it slow with a lift-and-flutter technique or dead stick it in a deep current offshore. www.williamsonlures.com
---
Rapala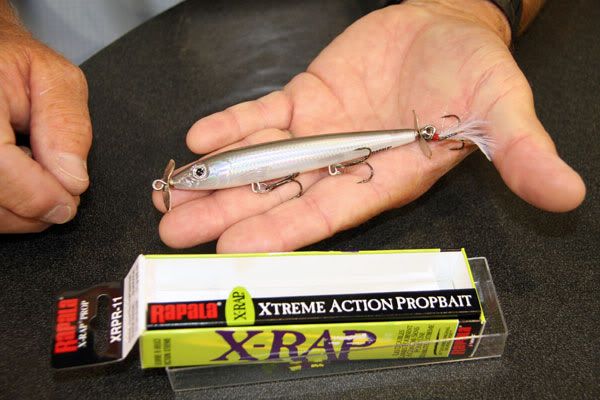 Rapala's X-Rap Prop is a topwater plug with front-and-back stainless steel props to provide maximum splash and sound. The X-Rap Prop features internal laser-etched scales, 3D holographic eyes and VMC Feather Tail Hook. www.rapala.com
---
Wiley X

If you don't know Wiley X, they might be the most indestructible sunglass lenses on the market. Some of your favorite bass tournament anglers probably wear Wiley X sunglasses. All Wiley X glasses pass ANSI Z87.1-2003 high velocity impact safety and optical standards. Above are two new frames, the Echo and Gravity. www.wileyx.com
---
Daiwa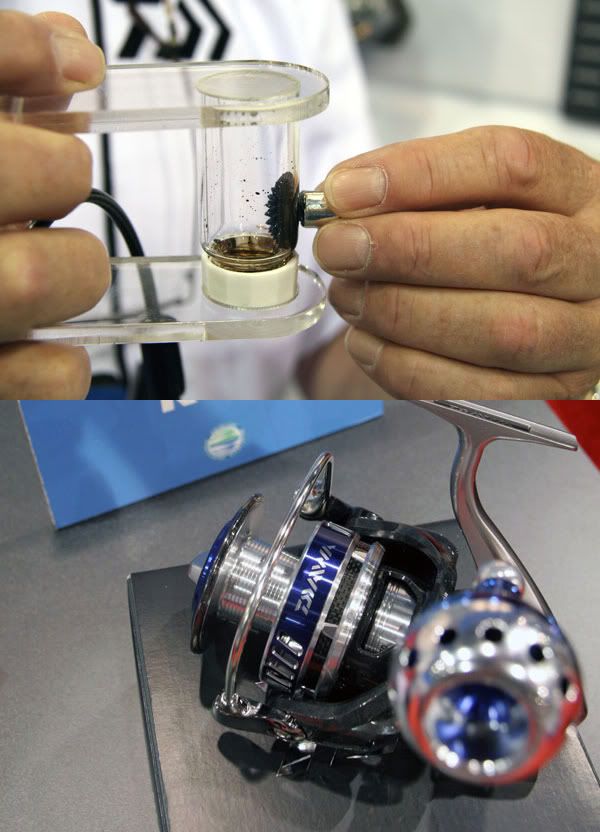 Daiwa's Saltiga 5000H features magnetic oil, one of a new generation of Nano Fluids, that can change its shape when a magnetic field is applied (see top image). Controlled by magnets in the reel's rotor bearing area, it forms a seal between the reel body and the rotor to prevent saltwater, dust and grit from intruding into the rotor bearing and body. Another Daiwa technology is the new Air Rotor design featuring corrosion-proof "Zaion" carbon construction. www.daiwa.com
---
Berkley

Not a monofilament. Not a braid. The Berkley Nanofil is a gelspun polyethylene line similar to a superline. Hundreds of Dyneema nanofilaments are linked and shaped into a uni-filament fishing line for an incredibly thin diameter. www.berkley-fishing.com
---
Live Target lures (soft)

Live Target lures makes both hard and soft baits, fresh and salt water. This year the LIVE TARGET Hollow Body Mouse got top honors for soft bait at ICAST. Don't put this hooked bait anywhere near your cat. www.livetargetlures.com
---
Live Target lures (hard)

Besides soft baits, Live Target offers unique finishes to its baits including threadfin herring, menhaden, mullet, Spanish sardine and Spanish mackerel. Lipped plugs, twitch baits, topwaters and lipless cranks are all available. www.livetargetlures.com
---
P-Line

The aluminum P-Line Sparrowhawk pliers feature carbide cutters and weigh a mere 2.1 ounces. The unique needle nose angles away from the handle to fit inside a fish's mouth. Carbide cutters easily cut braid and are replaceable. www.p-line.com
---
Plano

Plano's 4673 Hydro-Flo bag won the Best Tackle Management Product at the show. The Hydro-Flo base is unique in that it allows water to run through the bottom of the bag without the insides getting wet. Plus, the bag includes plenty of storage. www.planomolding.com
---
Sebile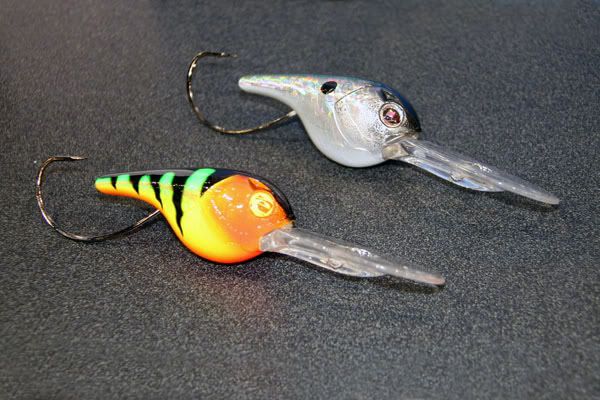 The Sebile D&S Crankbait stands out with its single rear hook instead of two traditional treble hooks. The single hook pivots, allowing gravity to keep it weedless, and is only exposed when a fish strikes. www.sebileusa.com
---
Z-Man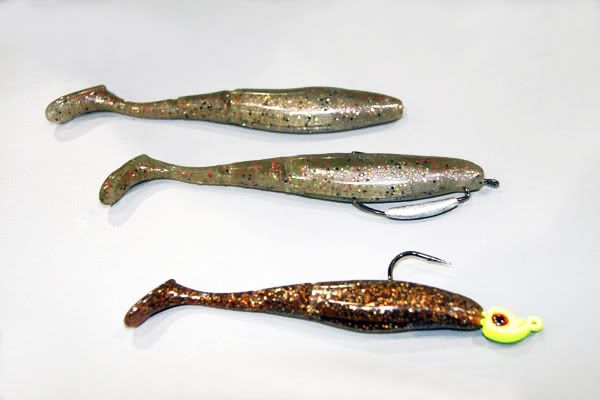 These baits stretch and stretch, but never tear or rip. The Scented Paddlerz from Z-Man feature ElaZtech technology that makes its baits incredibly durable. For rigging, it is best to use on a weighted worm hook or jighead—don't try to screw this bait on a "screw lock" hook. It won't work. www.zmanfishing.com
---
Minn Kota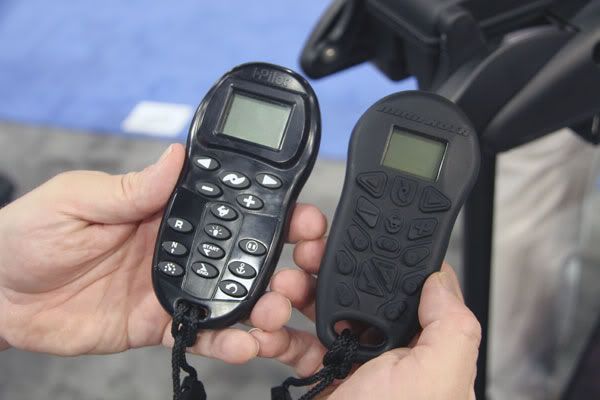 Not much was changed on the Minn Kota I-pilot. Check the before and after remotes. New remote, at left, features more durable construction and buttons. Those white markings on the buttons are etched in and will never rub off. www.minnkotamotors.com
---
Humminbird

The Humminbird 1198C GPS features both down imaging and SwitchFire technology. Anglers can see high detail below the boat when moving and lures when jigging or stationary. www.humminbird.com
---
Bullet Weights

This one's for the bass anglers. Bullet Weights Tungsten Carolina rigs come pre-assembled for quick and easy tie-on. The rigs include weight, bead and ticker, and are available in ½, ¾ and 1 ounce sizes. www.bulletweights.com
---
Boomerang

The Snip is an easy to use line cutter from Boomerang Tools. It easily fits into the palm of your hand, and the stainless steel teeth cut braid. Features include a retractable lanyard and available LED light. www.boomerangtool.com
---
AFTCO

Each year, AFTCO introduces fishing clothing ideal for the Florida angler. Head masks, long-sleeve shirts, casual clothing, and Guy Harvey themed clothes are just some of the options. Pictured are the some new styles of board shorts. www.aftcobluewater.com
---
Creek Chub

This topwater was made for stripers, but handles the likes of snook and tarpon. The Creek Chub Popper pushes a wake like a fleeing mullet, and handles the abuse of just about any saltwater gamefish. www.creekchub.com
---
Bomber

The Bomber Badonk-A-Donk just got bigger. The baits are now 3 ½ inches and weigh ½ ounce, rigged with number 2 treble hooks. Try out the Toxic Mullet color, which may or may not have been named after the Gulf oil spill. www.bomberlures.com
---
e21 Carrot Stix

Element 21 (e 21), better known as Carrot Stix, released its Wild Black series at this year's ICAST. Features include Fuji Alconite Micro Guides, dual helical bias construction and a green grip at the base of the rod. Both spinning and baitcasting models are available up to 8 feet long. www.carrotstix.com
---
Fuji

For the last ten years it's been all about the Fuji New Guide Concept System. If you've owned any rods with Fuji's New Concept Guides, they probably followed this rod-eye configuration. But with micro guides gaining in popularity, Fuji has come up with a new system called the KR concept system. A more aggressive choke and emphasis on the line flowing as close to the rod blank as possible translates to increased sensitivity for the angler. Above, a 2-rod test compares the old and new configurations for sensitivity. www.fujitackle.com
---
Lowrance

Lowrance introduced its mounting system for electronics on kayaks. No longer do anglers have to mess with their own PVC creations. Rig the Lowrance unit within reach of your hand, and then lead the wires inside the kayak back to a scupper hole. The Skimmer transducer (available with most Lowrance models) fits snuggle inside the hole. www.lowrance.com
---
Simrad

Above is Simrad's next generation sonar system, the Simrad BSM-2 Broadband Sounder module. The Simrad BSM-2 provides enhanced Digital Signal Processing (DSP), similar to the BR24 solid-state radar. It's the first sonar to incorporate Frequency Sweeping Pulse Compression technology – also known as CHIRP – into a recreational application for higher resolution, deeper depths and less noise. www.simrad.com
---
Tica

The TICA Talisman features an aluminum body and rotor, stainless drive gear and brass pinion, a unique water resistant gasket system and 14 ball bearings. Plus, there's the oversize power handle knob for "wrist friendly" fish-fighting action. www.ticaamerica.com
---
Power-Pole

Power-Pole's new Blade is thinner, lighter and more aerodynamic than past models. A brushless motor and high flow pumps make it faster than its predecessors. Also new is the option of a 10-foot model. The Blade installs on most boats in less than an hour. www.power-pole.com
---
Simms

The Simms ProDry Gore-Tex Jacket is weather- and windproof up to 22 inches of rainfall per hour. Low profile chest pockets and 2 zippered fleece-lined hand warmer pockets keep anglers comfortable. A window at your wrist allows you to view your watch through your jacket sleeve. www.simmsfishing.com
---
Lamiglas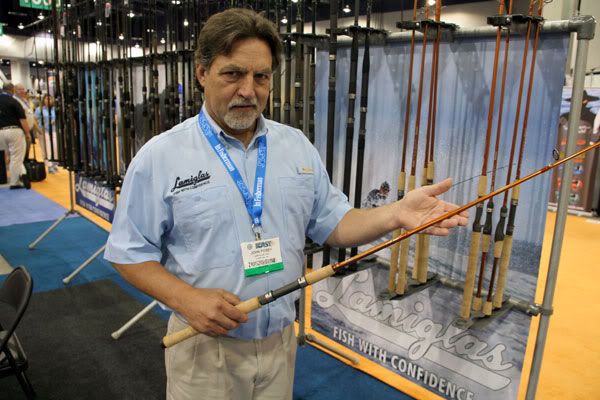 An American made rod (out of Washington State) near the $100 mark. That's what Lamiglas set out to do that with its Excel Series. Features include IM Graphite blank construction, American Tackle Halide guides, split grip handle and a Fuji reel seat. An extensive line of casting and spinning reels are available for bass and inshore fishing. www.lamiglas.com
---
Dock-N-Loc

Stainless steel and corrosion resistant, the Dock-N-Loc is easy to mount directly to the steering of your engine. This safety feature protects your boat from would-be thieves by disabling the ability to steer. Turn the engine to one side, fix the two metal pieces together and lock it down tight.  Freshwater and tiller models available soon. www.boatsecurityproducts.com
---
Rockport Rattler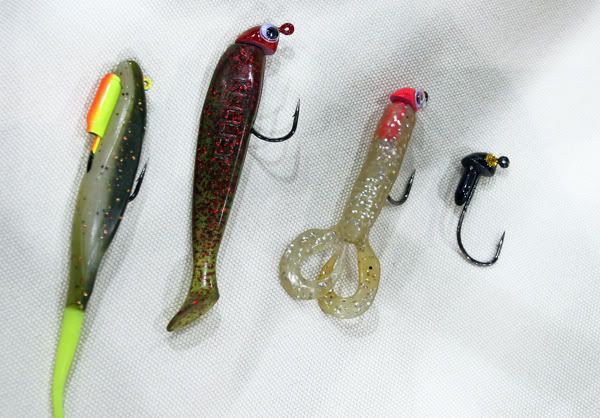 Add a little twist to your jigs. The Rockport Rattler jig combines sound and glass eyes for a realistic and loud presentation. At right, three different colors and weights of jigs. Left, the Rockport Rattler Xmax works with your jerkbaits in shallow water. www.rockportrattler.com
---
Yo-Zuri

Yo-Zuri's 3D Shrimp is a hard-bodied shrimp plug unlike anything else on the market. Rubber legs, two treble hooks and fluff tail give off a wild presentation in the water. At least seven colors are available, ranging in sizes from 2 3/4 inches to 3 1/2 inches. www.yo-zuri.com
---
Even More Fishing Accessories